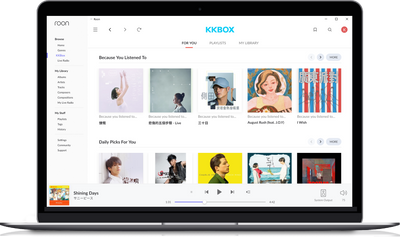 Check out everything KKBOX has to offer with a free 14-day trial, including exclusive KKBOX region-specific content.
Click here to sign up
Log in with your KKBOX credentials to sync your account with Roon's exclusive content, immersive music metadata library, MUSE Precision Audio Control suite, and seamless connection with audio gear.
Browse KKBOX and play music
Access to an immense library of over 40 million new lossless tracks across genres such as K-Pop, J-Rock, and Japanese Nu-Jazz plus tens of millions of Western tracks.
Benefits of connecting KKBOX with Roon

Improved music recommendations

Unify your local files with Asia's leading streaming service

Region-specific music and content focus
Expert-curated KKBOX new release, genre, era, and mood playlists